Originally published on July 2019, based on a talk at DMIEXPO 2019, updated on November 2020.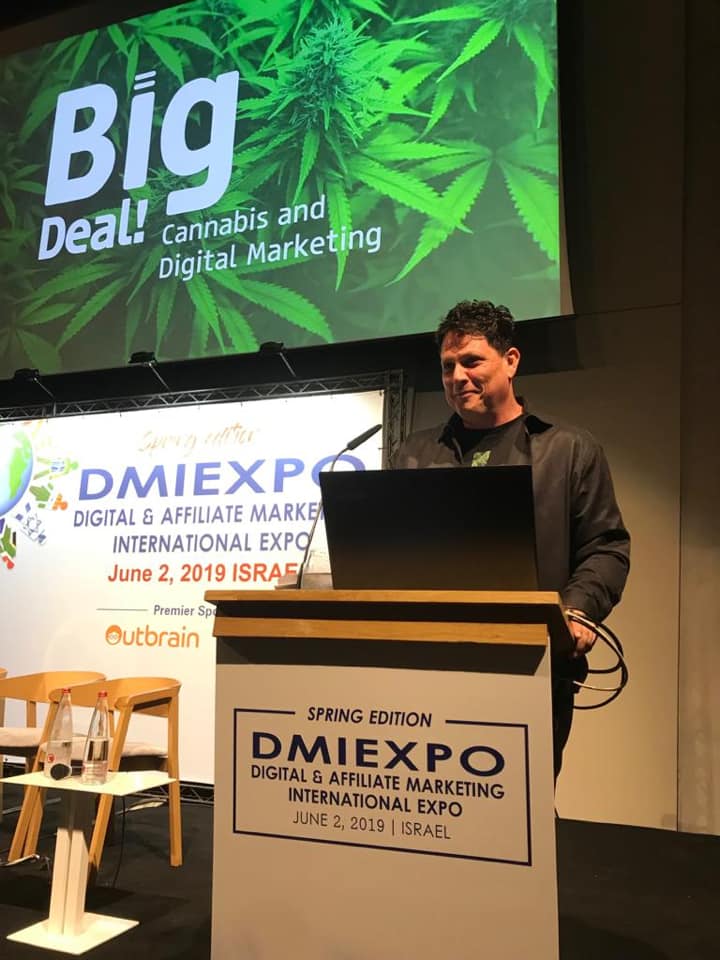 If you've lived under a rock (or in jail) for the past decade, many things would look weird and unfamiliar: messaging apps, streaming services, ecommerce websites… You might also be surprised to learn that activities that were considered illegal and even led to prison time, such as dealing marijuana for example, are now considered legitimate and lucrative investment opportunities.
I'm talking about the legalization and medicalization of marijuana, and how these trends are reflected in online marketing.
As of 2020, cannabis (also known as weed, grass, pot and dozens of other nicknames) and medical cannabis are widely used worldwide. In Israel alone, there are about 74,000 active medical marijuana licenses as of September 2020, and the Ministry of Justice is working on a legalization program, which will decriminalize and regulate recreational cannabis as well.
It means that by the end of 2021, Israeli citizens who are 21 or older will be able to visit regulated cannabis stores and buy weed in almost any form and flavor. Growing, distributing, exporting, importing and marketing of cannabis will be more complicated, but what about online marketing of legal cannabis and its products?
Although cannabis is currently legal in several countries worldwide including Canada, Uruguay, California, Colorado, Nevada and other states in the US, online advertising of cannabis products is still restricted or even forbidden in most digital platforms. These restrictions have an upside, as it allows cannabis companies, growers, dispensaries and others to focus on old-school SEO and affiliate marketing, just like in 2010.
Some Facts and Stats about the Global Cannabis Industry as of 2020:
The global legal cannabis market is valued in 23 million USD, and it is expected to grow in 18% by 2027.
In the US alone, there were already 10,000 active licenses for marijuana businesses in 2017. This includes cultivators, manufacturers, retailers, dispensaries, distributors, deliverers and test labs.
Sales of legal cannabis in the U.S. amounted to nearly 10 billion dollars in 2018 alone.
A regulated dispensary makes about $3 million dollars per year in revenue.
Most people spend an average of $25 to $50 per trip to the cannabis dealer, I mean, retailer.
Medical cannabis users, as expected, buy more frequently and spend more than regular, fun, recreational users.
In Israel, the revenue from legal, medical cannabis reaches about 300 million USD annually, while the black market makes between 7-8 billion dollars a year.
Very optimistic forecasts predict that full legalization in Israel can generate the local cannabis companies a probable annual revenue of 4.5 billion dollars, mainly from sales and export of cannabis-related products including cannabis flowers, cannabis oils, rolling papers, vaporizing products, cannabis-based cosmetics, edibles and others.
Although the world is recognizing the medical benefits of cannabis, it seems like big corporates and media are giving the green flower a hard time. While ads to drugs with severe side effects can be broadcasted everywhere without any restrictions, ads to cannabis products are banned.
Digital Marketing of Cannabis Businesses & Products
Google and Facebook, the big tech companies that aim to represent progress, advancement and innovation, and who also happen to dominate more than 90% of the digital advertising industry, are not following the cannabis trend.
Google's advertising policy includes marijuana under Dangerous products or services, alongside guns and explosives, and do not allow any advertising of cannabis and cannabis-related products.
Facebook also does not like weed, and Facebook ads policy has similar restrictions. Although some of Facebook's executives talked publicly about changing their policy following the legalization in Canada, eventually the company decided against cannabis ads or cannabis products marketplace in its platform, as long as legalization laws differ between one country to another.
It should be noted that recently Facebook eased its anti-cannabis ad policy, and allowed advertising of CBD and hemp topicals, lotions and creams with some restrictions: the ads can direct the users to landing pages that display these products, but cannot be mentioned on the Facebook ad.
Taboola and Outbrain also restrict cannabis-related content in their platforms. In some countries, including the US, UK and Germany, advertising of hemp and CBD products is allowed under certain conditions. In other countries, including Israel, any mention of medical or recreational marijuana will be banned, even if the explicit word is not mentioned.
Amazon's approach is different: there are several marijuana products available at Amazon, but the company has to face many obstacles before becoming the online cannabis king it can be, including legality matters, delivery, age verification and more.
So, how can we deal with these restraints and bans? How will you get your prospects to learn about your award-winning, lemon-flavored Sativa strain?
Here are some alternatives to digital advertising for cannabis:
1. SEO & Content Marketing – despite the bans and restrictions on paid marketing, you can't prevent users and potential customers from using Google to search information or order products. And as in other industries, authoritative websites with great content and strong SEO strategy can dominant Google's organic search results.
Although in 2020, it will be challenging for new websites to compete on popular search queries such as "medical marijuana" or "CBD", but there are plenty of opportunities to reach the target audience in every stage of the sales funnel.
For example, the cannabis delivery service eaze.com is using SEO and content marketing to attract clients. So, if you are looking for cannabis or pot or weed or marijuana delivery in the US, the website is going to be ranked between number one to number 4. Also, if you are new to cannabis and looking for answers to common questions like: "how to eat edibles" or "can smoking weed help with headaches", eaze.com will provide the answer at the top organic results.
Similarly, the San-Jose based "cannabis cultivator, manufacturer, distributor, and retailer" haze420.com dominates the first position in many dispensary related keywords like: online marijuana dispensary, online dispensary, best online dispensary, and many many more.
Content doesn't have to be text-based, and it can include videos, images and infographics, and by that take over image and video searches as well (including on YouTube). The content can be distributed on social media and help increase brand awareness.
2. Social Media Marketing – organic marketing on Facebook and Instagram is still allowed, and cannabis businesses can upload captivating content, videos, live videos, stories, etc. They can also use Facebook's Messenger to interact with clients and offer fast and reliable customers' service.
Influencer marketing is very big in the cannabis environment. Snoop Dog and Big Mike are some of the most well-known weed influencers.
Activity in weed-related websites such as MassToots and Leafly, as well as social media websites like Telegram and Pinterest also offer opportunities for cannabis businesses.
3. Digital Ad Networks – Advertising on cannabis-friendly websites and ad networks like Traffic Roots who specializes in the cannabis industry.
4. SMS & Email Marketing – sending existing and potential customers updates about sales and new products, coupons, product photos, etc.
There are several ways to collect email addresses and phone numbers, including:
Loyalty clubs & rewards
Free wifi in exchange of email sign-up
QR codes
Newsletters with great content
Registered database
Etc.
5. Affiliate Marketing – after failing to cooperate with Facebook and Google, many cannabis businesses advertise their products or services using affiliate programs, paying between 5% to 35% (and even higher) fees to websites that will refer paying customers.
Some of the Biggest Marijuana Affiliates Programs in the US & Canada:
RevOffers – an advertising network for health products, including several cannabis & CBD brands. Commission range from 20% to 25%, depending on the brand.
Seedsman – an online seed bank, which grows and sells its own cannabis brand as well as 1500 strains from around the world. Commission: up to 20%.
Hemp My Pet – a company that produces and distributes CBD and hemp-infused products for pets. Commission: 30% per sale.
Magical Butter – the world's first herbal extractor machine, designed to create cannabis-infused recipes – from edibles to oils and cosmetics products. Commission: 20% of each sale.
Hemp Bombs – a leading online retailer of hemp and CBD products. Commission: Up to 20%.
6. Getting smart with Google & Facebook using black hat methods – although Google & Facebook officially ban any drug-related ads (not including rehabilitation centers, antidrug policies and occasionally growing equipment sellers), there are some creative ways to sneak in some cannabis-related ads, mostly by using many accounts or hiding the cannabis activity under other campaigns.
For example, in one case, Facebook declined ads including the keywords Medical Cannabis, but approved ads with the same terms but with no space with a hyphen (MedicalCannabis or Medical-Cannabis). Google also often approves ads that don't include any of the cannabis synonyms.
In another example, Facebook approved ads containing the words flowers instead of buds. I can also tell you that using cannabis images can go below the radar if they are partially covered with watermarks and texts.
To summarize, there are many ways you can still overcome the restrictions set by the biggest digital advertising platforms, Google and Facebook, and deliver your cannabis & medical marijuana products and services to your target audience.